About Us
Your telos is your purpose. A shelf's telos is to hold things. Mine is to help people achieve a better life by improving their financial future as their financial advisor.
Dennis LaVoy
CFP®, CLU®, Financial Advisor
I've spent my entire life in Southeastern Michigan, and I've seen first-hand the difficulties that can come from this struggling economy — as well as the success stories that can happen through hard work and careful planning. I met and married my beautiful wife, Kristin, in Ferndale, MI. As our family grew, we moved to Plymouth to be closer to our loved ones. We have two wonderful children, Evelyn & Henry, who are happy and healthy. Family has always been really important to me, and I'm grateful to make my goal of spending more time with my family a reality.
Serving others has always been a part of my life and career; I'm most motivated when I can use my background and knowledge to improve and enrich others' lives. Having worked as a financial planner since 2008, I've helped both individuals and families in all stages of life, from professionals in miscellaneous careers to executives of large corporations to brand new investors. My education and experience gives me the confidence and foundation required for this business, as well as the conviction to have difficult conversations when necessary and the determination to work through tough times. From earning my Bachelors Degree in finance from Eastern Michigan University to earning my CERTIFIED FINANCIAL PLANNER™ designation (CFP®) and a Chartered Life Underwriter (CLU®) designations, I've made personal financial advice my purpose.
I aim to be the Michigan's financial planner for young professionals and their families. There is a unique set of challenges faced by this group and I have developed a strong knowledge base helping these families. Paying off student loans, saving for college for kids, first homes, opening a small business, I'm living these challenges and helping clients every day navigate them. I also work with clients well into their retirement and those approaching retirement; it's a different set of challenges that I help with. I work locally providing financial advice with clients in Plymouth, where my office is located; regionally, with clients in Ann Arbor and Detroit; and nationally, with families across the country. I truly enjoy working with a broad and diverse range of clients, but I'm always happiest when young professionals and their families come to me – it's never too early to get started on your goals, and it's rewarding to watch clients reach their many milestones throughout the years.
As a boutique firm, I'm able to provide each of my clients with a high level of individualized service. I work hard to build trust over time, through honesty, communication and shared goals. I look forward to working with you and your family.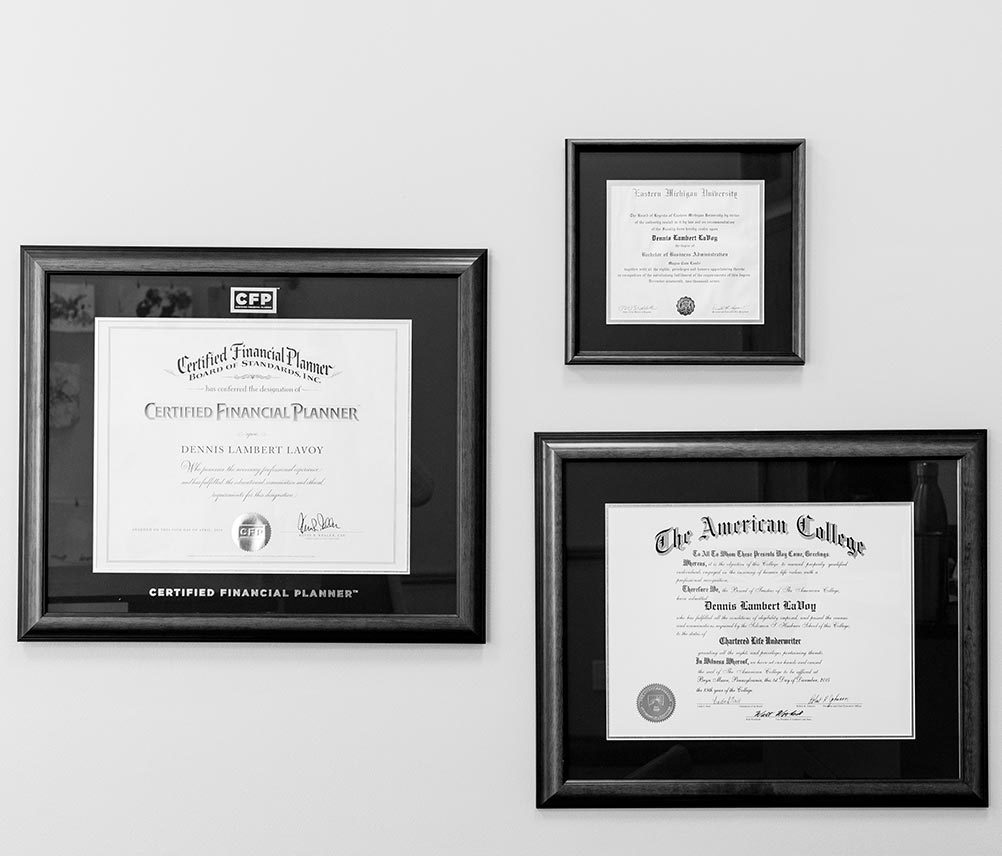 Telos Financial is proud to be the financial advisor in Michigan for Millennials, Xennials, Generation X, and young professionals. Telos currently serves clients of all ages across the country and is a fee based, holistic financial planning firm located in Plymouth, Michigan. Dennis LaVoy is a CERTIFIED FINANCIAL PLANNER™ professional (CFP®) and a Chartered Life Underwriter (CLU®) who uses his experience, knowledge, and expertise to help families and individuals; he is the financial advisor for Detroit, Ann Arbor, and across the great United States of America.
Your telos your purpose. A shelf's telos is to hold items. A toy's telos is to provide joy. Our telos is to help others achieve their goals through financial management and planning.
Dennis learned what telos meant in a philosophy class years ago and it's always stuck with him. He didn't always know what it meant to him professionally, until he found this industry and began working closer with clients. Our telos is helping others achieve their goals through financial planning.
In his years as a financial advisor, Dennis has always found great joy in helping clients create a path to help achieve their goals, work collaboratively to stay on that path, and ultimately reap the rewards. As he neared his tenth year in the industry, he chose to leave his position with a financial advisory firm in Michigan to open his own. He knew he could help more people in a better structured business and he knew exactly what it would be called.
Telos Financial was founded to be Michigan's financial planner for young professionals to provide easy to understand financial planning solutions to it's clients in a transparent and efficient manner.
Dennis has served all clients from those at the top of major companies to new savers in high school. He believes his biggest impact and connection has been with young professionals in a career they love, creating a plan to achieve their goals.
We provide financial planning, wealth management, insurance analysis and recommendations, retirement income planning, and advice on all your financial planning needs with the goal of creating paths to help achieve financial independence.